Cricket is one of the most interesting games among all the different sports. Many cricketers have been playing the game and pushing others forward for centuries. Many game formats have changed over time.
Although the game originated in Southern England, the game has gained vast popularity worldwide. Most countries are now joining this game to showcase their skills and group performance.
The game becomes more interesting with the emerging and popular players. There are many cricketers who have outstanding skills and talent. Many would say they are born for cricket.
They have set some records in the history of cricket that no players have been able to break. It might be hard to say who is the best cricketer in the world, but you can take a look at the list of 15 best cricketers of all time.
This article will help you give insight into the best players and their performance history. Stay with us till the end to find out the details about dream players and idols.
Top 15 Greatest Cricketers Of All Time
Before starting with the list, all the players mentioned here are legends indeed, but there are many other legendary players who did not make it to the list. The list is made based on votes; if you want to see some other players on the list, feel free to comment below.
Now that we have done chit-chatting, here comes the list of the top 15 best players of all time. Go through the details of all of these cricketers to find more about them, including history, stats, and records.
1. Don Bradman
The Don!!
Don Brandman comes at the top position on the list and holds the title of the best cricketer in the world. Sir Donald George Bradman is known to be one of the best Australian Cricket players and is also known as "The Don."
The nickname was given to him based on his batting skills and scores. He is considered to be the best cricketer and batsman in cricket history.
The test average of approx 100 is still unbeatable, and no one went close to the record. Don has a total of 6,996 test runs in his batting career. His unbreakable batting average makes him the best cricketer in the world.
2. Sachin Tendulkar
God Of Cricket
Sachin Tendulkar, also known as the God of Indian cricket, lives in the heart of most cricket fans. Not only in India, but Sachin is famous for being the best ODI ranking batsman of his time worldwide. He made records, mountains of runs, and won different awards, but the man is as down to earth as possible.
He has the highest runs in both test formats and ODIs. More than 34,000 runs are available in his name. He won the Bharat Ratna award in 2013 for his massive contribution to cricket. He also has the record of making a double century in one ODI match. Even after retiring from cricket, he is mentoring the next generation and constantly taking part in developing cricket.
3. Garfield Sobers
National Hero Of Barbados
Do we need to introduce this West Indies all rounder who is still regarded to be the best cricketer in the world by many cricket fans. Sir Garfield Sobers is someone who could do almost everything. He was a remarkable batsman and helped the West Indies cricket to get a boost.
Garfield Sobers was good at both bowling and batting. While he was a spin and fast bowler, his batting skills were very advanced. His batting average is around 57, and his total test run is around 8,030. When it comes to bowling, he got 235 test wickets with an average of 34.03.
4. Imran Khan
The Fighter Jet
If you are a cricket fan, you must have heard the name, Imran Khan. He is a former Pakistani cricketer, known for his wonderful career. He was one of the best cricketers in the world at this time. In both bowling and batting, he was versatile in different formats.
Some achievements include being in the 4th position with the most player of the series awards, 2nd best figure in a Test innings as a captain, and others. He was an outstanding captain and led the eleven-man army of the Pakistan team into victory many times.
Read : Top 6 Best Indoor Basketball.
5. Ian Botham
Guy The Gorilla
When it comes to finding out the best cricketer in the world, the name of England all-rounder Ian Botham comes to mind. He was one of the best all-rounders with an excellent score in his time. He played international cricket from 1977 to 1992 and achieved many milestones. He has many centuries and half-centuries in his name along with different records. 
Botham showed excellent form in the three test series against Pakistan and scored back to back two centuries. He stole the show in Lords and continued the state for a long time. Apart from that, his bowling career is very interesting as well.
6. Shane Warne
The Legend Of Spin Bowling
Shane Warne is one of the most respected figures in the Cricket universe. He is popular as a right-arm spin bowler, but he can hit some big hits as well. His cricket career started in 1992 and ended in 2007. However, he continued playing cricket in the T20 format, and he scored a big score in that format as well. 
He has taken 708 wickets in 145 test matches and 293 wickets in 194 ODI matches in his cricket career. He was the most popular and most stylish cricketer in his era. Shane Warne is one of the iconic and greatest cricketers of Australia. Apart from Cricket, he enjoys playing other games like tennis, football, poker, etc.
7. Viv Richards
Destructive With Class
When it comes to choosing the best cricketer in the world, the name Viv Richards comes to mind first. Sir Isaac Vivian Alexander Richards played cricket for the West Indies. He was one of the best cricketers of his time. 
Even now, he is known to be one of the best batsmen of all time. He was listed among the five best cricketers of the century in 2000. With an average run of 47 and a strike rate of 90, he is known to be one of the best cricketers of his time.
Read Also: Top 8 Best Cheap Golf Balls.
8. Brain Lara
The Michael Jordan of Cricket
Brain Lara is a name that most cricketers know very well. He is popular for his classy cricket and mountain of records. This left-handed batsman ruled the 22 feet field from 1990 to 2007. He scored more than 11,953 runs in 131 tests and 10,405 runs in 299 ODI. Also, he was a one-man army as a West Indian player. 
He was called the Michael Jordan of Cricket by former US President Obama. He is the only batsman who got 2 highest scores in two different test matches in his career. In the ICC ranking, he is still one of the high scorers in test matches. There are plenty of records that he has broken and many other records that he has set.
9. Jacques Kallis
Destructive Hard Hitter
Jacques Kallis Is a worthy competitor to become the best cricketer in the world, crossing all the aforementioned names. He is a former South African cricketer who played in all different formats such as test, ODI, and T20 cricket. He is an all-rounder and an outstanding batsman who is known to be the "most destructive hard-hitters in cricket." 
Despite his weight and bulky body, he was one of the best fielders of his time. He has a total run of 13,289 in test matches and 11,579 in ODI. He has almost 292 test wickets and 273 ODI wickets as a bowler. He is, without any doubt, one of the best cricketers now in South African Cricket.
Read Also: Top 10 Best Dodgeball Ball.
10. M.s Dhoni
Captain Cool
M.S Dhoni is known to be one of the best Indian cricket players. When it comes to who is the best cricketer in the world, this name comes to mind of every cricket fan. From wicketkeeping, batting, fielding, to even bowling, he is multitalented. After the golden time of the Indian team led by Sourav Ganguly, India found another captain that led the team to win ICC Cricket World Cup, ICC Champions Trophy, ICC Twenty20. 
He is called captain cool for a reason; even in very dire and stressful situations, he stays calm and handles the situation. Apart from international cricket, he has been the captain of the Chennai Super Kings in the Indian Premier League. He is regarded as the India best cricketer in the world during the time.
11. Wasim Akram
Most Successful ODI Bowler
For decades, Pakistan has been producing some great fast bowlers in Cricket history. Among that list, Wasim Akram is one of the names that most cricket fans know very well. He is one of the fastest bowlers in the history of cricket. The records set by him are still unbreakable by the current bowlers. Apart from that, he is also a very good test player too. 
When it comes to choosing the best cricketer in the world, the name Wasim Akram sure pops up in your mind. He is known for bowling some deadly fast deliveries and reverse swing. This left-arm fast bowler got 414 wickets in 104 test matches and 414 wickets in ODI matches.
Read Also : Playerzpot Review- How To Play Playerzpot, Is Playerzpot Safe?
12. Virat Kohli
Run Machine
Talking about legends, the first name that comes to mind from this generation is Virat Kohli. This Indian cricketer took the responsibility after some big hitters retired from the team and took team India to another level with his hitting power. He is one of the most important players in team India who got multiple awards, records, and achievements at a young age. 
He was the captain of the Indian Team after M.S.Dhoni, which he recently left. Also, he has been the captain of the IPL team Royal Challengers Bangalore since 2013. However, he dropped from that position in 2022 IPL. He topped the highest-paid cricketers and highest-paid athletes in the world. From Khel Ratna to Cricketer in the World, he won multiple awards and became the best cricketer in the world during his time.
13. James Anderson
King Of Swing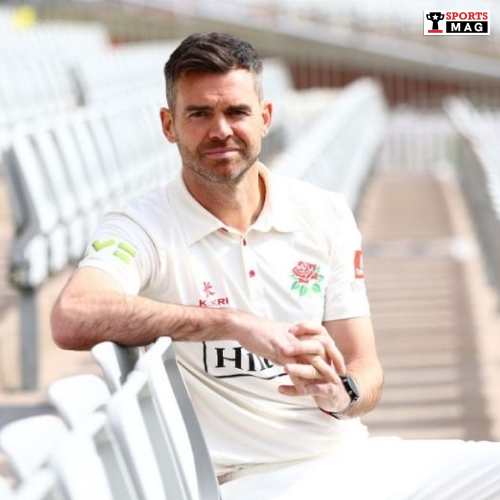 In the present cricket format, James Anderson might be the best swing bowler that comes with a very good career stat. He made his debut in 2002 and delivered some memorable spells in the world cup of 2003 and many other events. After that, he lost the magic for a moment but got it back and started taking wickets of some very good players. 
Apart from bowling, he is also very good with bats. He achieved a world record by playing 54 test matches without a duck. He is quite a good athlete and a very good fast bowler. There are many wonders he can do in the upcoming days. He still has a lot to achieve before he retires from cricket. He might get the title of the best cricketer in the world with the pace he is going forward.
14. Alastair Cook
Cookie Monster
Alastair Cook is one of the famous names that pop up when talking about the best cricketer in the world. But, if there was any doubt about his playing style, he proved himself in the final test. Cook has seen all the downs and ups in his career, and earned his name.
He also captained the England team and led them to some victories. In the end, his longevity, determination, and decency help to get a mountain of runs. He got a standing ovation from the crowd for his unbelievable performance. He continued to represent Essex afterwards and the form was very good in that format.
15. Muttiah Muralitharan
The Smiling Assassin/ Don Bradman of Bowling
Once upon a time, Muttiah Muralitharan used to rule the game. Batsmen feared his spin bowling and many times got ducked by him as well. What Sachin Tendulkar did with batting, Muttiah Muralitharan did with bowling. He did wonder with his fingers and took down some big names without even sweating. Many players could not even read his bowling action and delivery.
The Sri Lankan spin bowler also played many different formats of cricket. From international to IPL, he rocked every format with his bowling. There are plenty of talks about his bowling action. However, he cleared this thing many times and stood up from all the controversies. There are plenty of records and achievements available that many players are still trying to beat.
Frequently Asked Questions:
1. Who Is The No 1 Cricketer In World?
It is hard to take on a name among all the fine cricketers, but M. Labuschagne, Babar Azam, Virat Kohli, Pat Cummins, and many other players are way ahead among others in this round. For different modern games like ODI, Test, and T20, they have ranked accordingly.
2. Who Is World No 1 Wicketkeeper?
Kumar Sangakkara is the best wicketkeeper in the world with more than 482 dismissals. He might have retired from cricket now, but no one has been able to break his record.
3. Who Is The Best Cricket Player In The World Today?
There are many best cricket players in the world today. Some include Virat Kohli, AB De Villiers, David Warner, Andre Russel, M.S Dhoni, and others.
4. Who Is The King Of IPL?
The king of IPL is M.S.Dhoni, who guided the team to 11 playoffs as a captain. He is also the best and most successful captain. Although Dhoni has now given the responsibility to Ravindra Jadeja, he is still the backbone of Chennai Super Kings and playing the most crucial role for the past 14 years.
Conclusion
Cricket is one of the popular games that comes with plenty of fans worldwide. Since the start, there have been many legendary players in this game. It is hard to pick some best players among all these talented individuals. However, there are some outstanding and talented players available that you need to know about.
We have provided the best 15 cricketers of all time with details. Make sure to go through them and learn more about them. If you liked this article, share it with others to help them know these legends. Also, comment down below to help us know who is the best cricketer in the world.
Read more…