"I fell in love with scoring a lot of runs. I never felt 50 or 100 were enough."
– Brian Lara
The game of cricket has an enriched history of over two hundred years now in its organized form. However, the number of Godly cricketers is very few. When you make a list of the gifted cricketers worldwide, you would probably end up with only fifteen to twenty names. 
Well, when it comes to gifted cricketers, Brian Lara would be back in one of the top positions. This West Indian cricketer has numerous fans worldwide and even today, they remember him with ultimate respect.
If you are a cricket fanatic, a West Indian, or just a 90s kid who wants to know about Brian Lara, this article is for you. Here, you can check out the history of Lara's life and even his stats.
So, let's just waste no more time and step out of the pavilion. Imagine Lara standing on the non-striking end and smiling at you as you face the bowler. Oh!.. Err.. Sorry! Read this article.
Read : 15 Greatest Cricketers of All Time – your votes revealed in 2022
Early Life
In this part of the article, you can go through the important facts about the early life of Brian Lara 400 (It is his BRANDNAME you know).
Well, the 'Magician of Carrebian Cricket' was born on 2nd May 1969. So, the current Brian Lara age is 53. He first saw the light of the world in the Trinidad and Tobago region. He had a big family with his parents and his eleven siblings.
Brian Lara's career in cricket started when one of his sisters Agnes Cyrus enrolled his name in the Local Harvard Coaching Clinic. He used to have Sunday classes and here he learned the correct batting technique.
Fortunately, Brian Lara was from a well-to-do family and had a successful educational carrer. He completed both his primary and secondary schooling on time. Later, he got admission to Fatima College.
By this time, Brian Lara's cricket game improved and he turned into a promising player. Amazingly, he was only fifteen when he played under-16 for Trinidad and under-19 for West Indies. Lara's first coach in cricket was Harry Ramdass. 
Also read : About Garfield Sobers Profile – ICC Ranking, Age, Career Info & Stats
Cricket Career
Now, as you know about the early life of Brian Lara, it is time to check out the cricketing career facts. This part is divided into two parts. Have a look:
Lara In First Class Cricket
Brian has been an icon of the game since his days in first-class cricket. His career kickstarter in 1987 when he scored a whopping 498 runs from the Trinidad and Tobago side. Later he became the captain of the team and won another match scoring 116 runs on his own. All these happened in the games of the Youth Championship.
From 1988 to 1990, a lot of incidents happened with Lara and he could score 182, 145, and many decent runs like these in multiple games. Even he faced an unfortunate withdrawal from the national team due to the sudden death of his father. 
Read more : Ian Botham Profile – ICC Ranking, Age, Career Info & Stats
With a glittering Brian Lara 400 scorecard, he became the captain of the Trinidad side when he was only 20. The winning captain for Geddes Grant Seild got a chance to play for the national side a few months after.
At this time, he got a chance to play with other outstanding cricketers like Malcolm Marshall and Joel Garner. He even got a chance to face the Zimbabwe and Indian teams.
Lara in International Cricket
Brain Lara's initial days in international cricket was not promising but it rapidly took an upward curve after a few days. In January 1993, he scored 277 against Australia in a test. This was the inception of the Golden Era of WI Cricket. 
If you are concerned to know about Brian Lara highest score, just remember that he scored a 501 runs unbeaten against Durham. Moreover, Brian Lara's highest score in tests is 400 runs unbeaten against England. These innings happened in 1994 and 2004 respectively. 
There is probably no one who has succeeded in Brian Lara record in the highest tier.  However, Sachin Tendulkar has exceeded Lara's medium runs in many games. 
There are many experts who compare Lara with both Don Bradman and Tendulkar. Well, it is nothing to overestimate as the Carrebian wizard deserves what he has got in international stature. 
Lara has successfully maintained the responsibility to be the skipper of the national side multiple times. In the later part of his career, even Muralitharan stated that Lara is the most dangerous batsman he has faced on the field.
Brian Lara has bought one ICC Champions Trophy to the WI sides and numerous other cups. This great batsman retired from all forms of cricket in 2007 after the ICC Cricket World Cup Tournament.
You may like to read about Shane Warne Profile – ICC Ranking, Age, Career Info & Stats
Statistics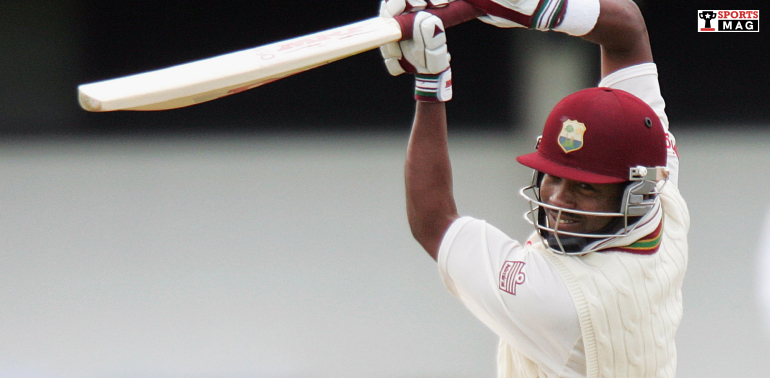 "There are always going to be critics. But I have got to go out there and do my job."
– Brian Lara
A brief overview of Brian Lara's stats is given here. Check it and you can understand how mighty a player he was.
| | | | | | | |
| --- | --- | --- | --- | --- | --- | --- |
| Format | No. Of Matches | Won Games | Lost games | Drawn Games | Tied Games | Abandoned Games |
| Test | 131 | 32 | 63 | 36 | 0 | -Nil- |
| ODI | 299 | 139 | 144 | -Nil- | 3 | 13 |
General Facts About Brain Lara
Brian Charles Lara is a family man in his personal life. He is a father of two daughters Sydney and Tyla. Brain Lara's wife is a Trinidadian journalist and her name is Leasel Rovedas.
Lara has been a coach since his retirement and a well-known philanthropist. He has his own foundation known as Pearl And Bunty Lara Foundation.
The recent Brain Lara net Worth is $60 million. 
A Fun fact About Brian Lara
As per a fun fact about Brian Lara, his nickname is Princey. His teammates and countrymen have given this nickname to him. 
Frequently Asked Questions
What has Brian Lara Philosophically Said About Family And Values?
There is a famous quote from Brian Lara for family and values. It is, "You just don't pick up family values, unless your parents teach you and let you know exactly what they expect."
Who Is The Player To Dismiss Lara For Most Times?
Glen McGrath is an Australian Bowler who has dismissed Lara most of the time. According to him, Lara has not changed his game throughout his career.
Who Are The Current Batsman Lara Respects For His Performance?
Virat Kohli is the cricketer from India who Lara respects for his performance. He has stated it in many of his interviews. 
Final Words
Cricket, in many countries is a happening game and a lot of players come into the limelight for a short period of time. However, there are only a few who can perform consistently and turn into a wizard. Thus, they can retain their fanbase for a long time.
Brian Lara undoubtedly holds a place in such a squad. It is quite expected that many budding cricketers, fans, and even critics would look up to him even years from now.