One of the leading fantasy cricket platforms in the country, MyTeam11, is currently used by 15 million users, and the number keeps increasing every month. The brand ambassador of myteam is the Indian cricket legend Virender Sehwag. Launched in 2016, the app also sponsored 'India's 2019 tour of West Indies.'
The market for fantasy sports is vast, and for some reason, the industry has exploded in India, especially the demand for fantasy cricket, football, and even kabaddi. Cricket fans can now use their expert sports knowledge to participate in matches and win cash bonuses and other rewards.
MyTeam11 occupies the second spot among the top players in the fantasy sports market. So if you love playing fantasy sports online and have not heard about the myteam11 apk, it is time to do some research and download the app. So sign up today and participate in exciting matches. 
The MyTeam11 Review: All That You Need To Know!
What Is MyTeam11?
The Indian Constitution makes playing fantasy sports completely legal on platforms like myteam11 apk except in a few states like Andhra Pradesh, Telangana, Odisha, Assam, Sikkim, Meghalaya, and Nagaland.
MyTeam11 is a platform that enables users to take part in fantasy sports and win some cash prizes. The platform allows users to create their own team 11 and participate in various contests and leagues.
Additionally, you can form as many as 11 groups and participate in games allowing multiple entries. Furthermore, the application also gives users 100 rupees as a joining bonus to play matches.
Features Of MyTeam11: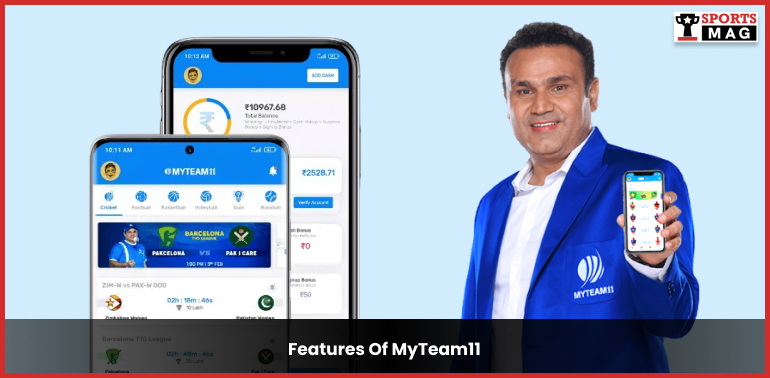 The features of Myteam11 are as follows,
After Dream 11, myteam is India's oldest and the most significant fantasy sports application in India.
Every successful referral can help you earn a thousand rupees, while your friend will also get 100 rupees. If you don't know the myteam11 referral code, it is BONUS 100.
The customer support representatives of myteam are impressive, with an around-the-clock presence to help out users with queries and difficulties. The customer care number of MyTeam11 is +91-1414579900, and the email id is support@myteam11.com.
One of the other features of this application is a secure payment gateway. Apart from accepting credit cards, myteam allows users to perform transactions through NetBanking or payment wallets. 
Pros And Cons Of MyTeam11:
The Pros of myteam11 apk are as follows,
It has not been very long since the launch of my team 11 in 2016. However, the platform still has relatively lower competition than similar apps.
Secure transaction procedure is a vital requirement for any fantasy sports app, and my team 11 does not disappoint with quick payment and withdrawal alternatives.
The best thing about using MyTeam11 is its terrific customer support department. These representatives are fast and consistent, solving all your problems in the blink of an eye.
The cons of myteam are as follows,
Identification and verification are two halves of the same coin. Without a proper ID, forget all dreams of playing on any fantasy sports platform since you will not be allowed to withdraw cash prizes won by you without a verified ID.
The referral schemes of MyTeam11 are pretty hard to implement. It sounds appealing, but getting many successful referrals is rather challenging. 
How To Play MyTeam11?
Fortunately, a 'how to play' section on my team 11 application or website details the game's intricacies. However, that might be a little taxing. So instead, keep reading to learn how to become a master of fantasy cricket in a few simple steps.
1) Choose A Match
One of the first things players need to do after logging into their MyTeam11 accounts is pick a match. This is crucial because it tests your strategic skills as a player – are you selecting a game based on your strengths or your opponent's weaknesses?
Thus, carefully choosing a match with some time for deliberation is safe.
2) Pick A Team 
Once you have selected a match, the next thing that you need to do is to create your team of eleven. One of the most exciting things about fantasy cricket is that users choose players designed after real-life players.
It's almost like creating your own IPL team and playing a 20-20 league. 
3) Select Captain And Vice Captain 
Once you have created your team of 11, you must pick a captain and vice-captain from your team. Thanks to my team, users get extra points by selecting a captain and vice-captain.
While users earn 2x points from captains, vice-captains give 1.5x points based on their performance on the field. 
4) More Than One Team 
An exciting thing about the MyTeam11 application is that users can create more than one team and then participate in a contest or league that allows multiple entries.
For example, clubs allow as many as fifteen entries under specific terms and conditions of my team 11.
5) Join Any League
Before you can play and win some exciting rewards, the final step is to become a part of any league or contest on myteam. Now you can easily play against others. Additionally, the application lets you play with your friends through private games organized by participating users. 
The Ballon d'Or award for the greatest player in the world for the seventh time knows in detail how Messi Maintains His Ballon D'or Strike Record.
Frequently Asked Questions:
1) Is Fantasy Cricket Legal In India?
Yes, it is legal to play fantasy cricket in India.
If you love playing fantasy cricket and earning extra cash in the process, know that it is not against the law in India. The Indian Fundamental Rights protects all skill-based games, and citizens can play fantasy cricket without worry under Article 19(1)(g) of the Indian Constitution. 
2)Who Is The Owner Of Myteam11?
Sanjit Sihag and Vinit Godara came up with the concept of launching a fantasy sports platform in the country for fans to experience the feel of playing on the field from the comfort of their drawing room. While Sihag is the COO, Godara is the CEO of my team app. 
3)Which Is The Best Fantasy App?
Fantasy sport has an expanding market in India. Currently, there are as many as 45 fantasy sports applications in the country, and the number keeps increasing yearly.
The best-reviewed fantasy sports platforms rated by users and critics alike are MyTeam11, Playerzpot, SPort 11, League X, and Faboom. 
4)How Do I Use Myteam11 Credits?
Players must remember that credits rece the my team app ceases to be valuable two weeks after users receive them.
However, players can use the credits, including various offers, plans, and other rewards, to participate in the platform's matches about the terms and conditions. 
5) Can I Delete My Myteam11 Account?
Yes, you can delete your account on the app. At the same time, the MyTeam11 application possesses all the rights to regulate, limit, and cease all access to MyTeam11.com and its unique features.
Furthermore, if users of my team app breach any of the terms and conditions, the app can remove the user's content and deactivate or even delete the user's account.
The Final Thoughts:
MyTeam11 has been called safe by users everywhere. There is more than one way to earn quick cash on the app – you can either use your expertise to win leagues or your social skills for successful referrals.
However, without identity verification, you cannot access any cash price you have won on their app.  
So what are you waiting for? Head over to Plays tore or App Store, install MyTeam11 on your smartphone, and start your fantasy sports journey today!
Read more:
Sania Mirza, India's most decorated women's tennis star, to retire after 2022
Top 10 Best Ice Skates For Kids Of 2021
Virat Kohli Becomes First Indian Player To Score 10,000 Runs In T20 Format
How To Play Tennis? A Step By Step Guide For Beginners In 2021