Over the years, there has always been curiosity about the hottest athletes. Before starting this article, I want to mention that when I was a kid, I used to be a huge fan of Maria Sharapova. Even I started watching women's tennis for her. So, I hope there are others who want to know who are the hottest female tennis players of all time.
There are also some people who hesitate to show appreciation to female athletes, we do not do that, you should not also. After the list, I hope you will start to watch women's tennis as well. And believe me, you are going to enjoy the same as men's tennis.
17 Attractive and Hottest Female Tennis Players
Here is the list that you have been waiting for.
17. Sorana Cirstea:
Sorana Cirstea was introduced to tennis when she was only four and then went ahead full throttle, achieving a global ranking of 21 in 2013. Cirstea was one of the best players during her stint in the ITF Junior Circuit, and her best achievements include winning the German Junior Open in 2005. 
16. Donna Vekic:
Donna Vekic has managed to win three popular singles titles at the Malaysian Open, the Nottingham Open, and the Courmayeur Open on WTA tour. 
The professional Croatian tennis player started her tennis career when she was only six, and soon started becoming popular as a young player, before making her debut in 2010 in the ITF Junior Circuit.
15. Sania Mirza
Sania Mirza was an Indian professional tennis player. She is a former doubles world No.1, also she is the first Indian tennis player to win the WTA Tour title. She has six major trophies, three in mixed doubles and three in women's doubles.
14. Alize Cornet
Alize Cornet is one of the hottest female tennis players who is naturally beautiful and has six packs. She started playing tennis when she was only four years old. Alize is from France, and his inspiration comes from Rafael Nadal. She has five single trophies and three in doubles on the WTA tour.
13. Elina Svitolina
Elina is a professional tennis player. She still lives in Ukraine. She became a pro in 2010 and one of the most successful and fittest tennis players of all time also. Her highest ranking was in 2017, and that was number 3. In 2022, she won Italian Open, Canadian Open, and Dubai Tennis Championships.
Read more: How To Play Tennis: Understand The Tennis Rules
12. Cici Bellis
Cici Bellis is an American tennis player who currently lives in Canada. She won one singles title in the WTA, two doubles titles, and six single titles. Most of her titles came from the ITF. She turned pro in 2016 and had a scholarship offer from Stanford University.
11. Andrea Petkovic
Andrea Petkovic is one of the hottest tennis players who had a ranking of number 9 in 2011. She has reached a milestone by winning a total of 15 titles in her career in both WTA and ITF. She also has a YouTube channel and knows four languages.
10. Alona Bondarenko
Now, there is another Ukrainian on the list named Alona Bondarenko, who is a professional tennis player. Many people don't know that her sister is also on the WTA tour. And the sisters have participated in the doubles a couple of times. Alona won a doubles championship in the Australian Open.
9. Tamira Paszek
Tamira is an Austrian professional tennis player. She started playing tennis at the age of 4, and the main inspiration for her tennis career is her mothers. In her career so far, she has won six titles in the ITF and three titles in the WTA.
8. Mandy Minella
Mandy Minella is a professional tennis player and is the first woman tennis player to represent her country at the international level. She is from Luxembourg and has won two doubles in the WTA. She has five doubles titles and nine singles on the ITF. A couple of years ago, she was inconsistent, but last year she came back hard.
Read more: Top 10 Best Tennis Balls
7. Katie Boulter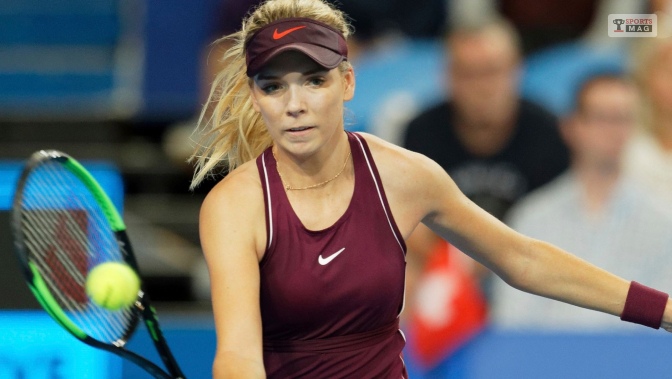 Katie is a British tennis player who has represented her country in both singles and doubles. She has won titles on both occasions. Other than playing tennis, Katie has an interest in fashion as well. She was featured in Vogue Magazine.
6. Sloane Stephens
Sloane is an American tennis player who was the winner of the US Open in 2017. Other than this, she has six singles titles. Sloane has great inspiration from her grandfather in her life, and inside the court, she follows Serena and Venus Williams.
5. Fanny Stollar
There is a saying that if Fanny didn't come to play tennis, she would probably be a model. She is a Hungarian professional tennis player who started playing this sport when she was only three years old. Her best ranking was 114, and it was in 2019.
4. Camila Giorgi
Camila is a professional tennis player who started her career in 2010. At that time, her ranking was in the top 100. Her career-best play was when she made it into the fourth round at Wimbledon. Her best ranking is number 30, which was in 2015. She is one of the hardest hitters of the ball. She is the most famous Italian tennis player.
3. Eugenie Bouchard
When it comes to the hottest female tennis players, then Eugenie Bouchard is one of the best. She is a Canadian athlete, and her career-best ranking was number 5 in 2014. Eugenie is the most successful Canadian woman tennis player, and she reached the finals at Wimbledon.
2. Ana Ivanovic
Ana Ivanovic was famous for her aggressive and quick playing style, she was a Serbia tennis player. She won a total of 15 titles in the WTA Tour and has one Grand Slam. Her career stats say that she has won 437 ATP matches. Also, she is engaged with the former world cup winning footballer Bastian Schweinsteiger.
Read more: Top 10 Best Tennis Racquets
1. Maria Sharapova
And, the number 1, both in beauty and talent, Maria Sharapova. In 2020, she retired from professional sports, and she is the most famous and successful tennis player from Russia. In her whole career, she has had a total of 36 titles, including Grand Slams and Olympics in women's singles. Also, she used to be the greatest rival of Serena Williams. And when it comes to the sexiest female tennis player, Maria Sharapova is number 1.
Final Words
Choosing and then giving the numbers to the hottest female tennis players was not easy. There are a lot of female tennis players who have been showing some great potential. Our team did its best and created this list, and there were no biases.
The athletes who are on the list have proven themselves in skills, and natural beauty, the millions of people like and talk about them and how they maintain sports and beauty at the same time. So, if you are a tennis fan or not, this list will make you into one for sure.
If you find this article interesting, feel free to share it with your friends.
Thank You.
Read Also: