As you already know, soccer is the most loved sport in the entire world. The game of soccer has gone through an evolution over a long time. And along with it, has evolved the rules, the kits, the equipment, and also the balls. 
Whether you are playing with your friends or playing professionally for a team, without the best soccer ball, there is no vision in the game. You might be playing in a muddy field or over an astroturf, but the quality of the game does not improve unless you have a proper ball to play with. 
About The Best Soccer Balls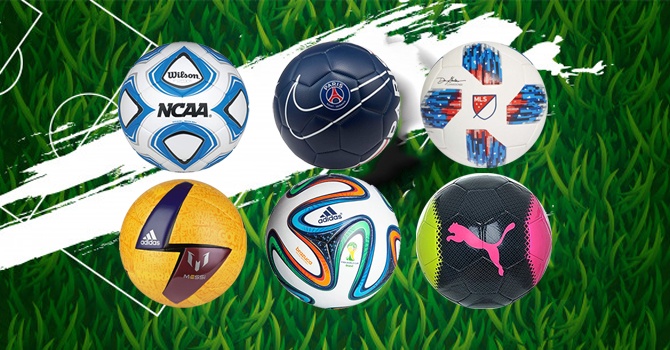 Soccer has been played over generations, and the changes that we have seen over the period have been magnificent. If you try to look out over Youtube, you will find that the ball used in the earliest soccer games had stitches resembling a rugby ball. 
Over a period, the transition gave us the classic black and white ball, which is still in use. The multi-paneled soccer balls that we find in this modern era are built with special technologies that make them much lighter, easier to shoot, swing more, and fly faster into the net. 
However, there are certain factors that you must keep in mind before purchasing the best soccer balls of 2021. There can be nothing more interesting than going soccer shopping!
Buyer's Guide For Purchasing The Best Soccer Ball
Before you make a purchase, you must make sure of what you actually need and not what you want. Different soccer balls are fit for different surfaces. 
Without knowing about the specifications, your purchase might go to waste. Here are some of the factors that you must consider:
Materials

Durability

Playing Surface

Design

Quality

Brand

Price
List Of Top 10 Best Soccer Balls
There is no doubt that these soccer balls are constructed out of the best quality materials, with scientific technologies to improve performance and gameplay. Estimate your needs and add the most suitable one to your cart!
Now, let's get deeper into the list of the top 10 best soccer balls in 2021.
1. Nike Strike Premier League Ball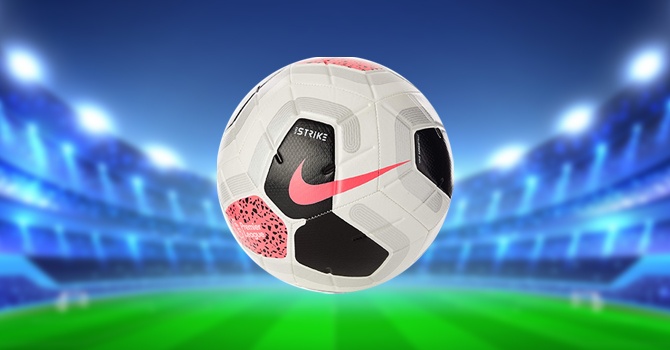 This ball is built to be an all-rounder and can be extensively used on any surface. It is affordable and makes it to the top, of my list of the best soccer balls. Its features include:
Stylish design.

Built with excellent aerodynamics to establish proper ball control.

Great texture and traction to be used on any possible surface.

Feather-touch soft but strong for delivering accurate performance.

Durability is the only back draw.
2. Adidas MLS Official Game Ball
It is one of the highest quality balls that has ever been crafted. It is a premium match ball that is generally used by professionals across the world. As Adidas is one of the most trusted brands in this sector, its features compile of:
Sophisticated design with its red, white, and blue motif.

High-quality materials

Extraordinary durability

Thermally bonded smooth panels allow the least water intake and better trajectory.

Feather soft finish to help in better touches and easier shoots. 
You Can Read: Top 6 Best Indoor Basketball of 2021
3. Mikasa D49 Soccer Ball
The Mikasa D49 grabs the third position in the list and is also considered among the best soccer balls of all time. Usually, the stitches of soccer balls tend to wear out. However, I have been able to preserve this ball for almost two years. Its features include:
Mid-ranged price but match ball category. 

FIFA Approved.

Micro-fiber cover to withstand any playing surface.

Great durability and grip.

Butyl bladder for retaining air and better shape.

Extreme softness and feather-touch feel.
4. Adidas Performance Finale 15 Premium Match Ball
Considered one of the best soccer balls in the market, Adidas Performance Finale 15 had been used as the official match ball for UEFA Champions League. Receiving the highest ratings from FIFA, its features include:
Best design.

Butyl bladder for excellent rebound.

High-quality materials allowing better mobility and better touches.

Great durability and endurance

Seamless surface for better performance and lesser water uptake.
5. Select Numero 10 Soccer Ball
Although the Select Numero comes in at number five, some people rank it as the best soccer ball. Apart from Adidas and Nike balls, this hidden gem is also bound to improve your gameplay.
It is among one of the most favored soccer balls because of its features, which include:
Does not have a very attractive design.

The requirement for frequent inflation but extremely durable.

Built-in with a latex bladder offering better mobility and control.

Constructed with thick, hand-stitched panels to provide excellent aerodynamics.

Exceptional durability, ball bounce, and soft feather touch.
You Can Read: Top 10 Best Golf Balls For Seniors In 2021
6. Adidas Performance Messi Soccer Ball
This version of the Adidas Performance has been crafted in tribute to the legendary Argentine player Lionel Messi. With this ball on your foot, Adidas promises to give you the ability to dribble like the master himself. Its features include:
Interior built-in with nylon.

Machine stitched.

Butyl bladder allows better air retention.

Molded with 100% TPU injection.

Extremely stylish design and expensive.

Offers excellent control and power. 
7. Nike PSG Prestige Soccer Ball
If you are a Paris St. Germain fanboy, this is the perfect choice out of all the best soccer balls. The ball has been designed specifically in the team's colors to convey their pride in being one of the richest clubs in the world. It has magnificent features which include: 
PSG color and emblem.

Internals built of polyurethane.

Butyl bladder for better air and shape retention.

26 paneled design and machine stitched for better flight and dip.

Feather-touch offered due to textured casing.

Highly-priced. 
8. Wilson Official NCAA Forte Fybrid
It is considered one of the best soccer balls for younger players playing at an amateur level. It has continued its legacy for a long time now, gaining much popularity among school and college students. That is some exciting features, which include:
Extreme softness due to the use of synthetic leather material.

Best durability of all due to fused panel and fybrid fused technology.

Butyl rubber bladder to maintain air level.

The eccentric 32-panel design offers outstanding ball flight control and precise striking. 

High contrast graphics for better visibility. 

Priced on a mid-range. 
You Can Read Also: Become A Basketball Coach Here is The Step by Step Guide.
9. Puma Chivas Evopower 6.3 Training Soccer Ball
Of Course, you would be surprised if a brand like Puma wouldn't be included in the list of the best soccer balls of the year. So, here we have the Chivas Evopower, which is the perfect ball for your everyday training. It comes around with three different colors, and it has other features which include:
Stylish color and design.

Machine stitched structure to provide better durability.

TPU casing and TPE foam for better shape and soft feel.

Offers great flight and traction.

Easily affordable.
10. American Challenge Brasilica Soccer Ball
Although they are a brand that is not known to many, this ball is a great offering. Making its way to complete the list of the best soccer balls of the year, the Brasilica is a highly vivid, attractive, and flashy ball for the modern generation. Its features consist of:
Specifically designed for soft grass but can be used on any surface.

Extremely stylish design.

Hybrid bladder offers better air retention.

Great durability at an affordable price.

TPU material on the covering makes it abrasion-free.

32- panel design and machine stitched. 
Choose The Best Soccer Ball
Being a  soccer enthusiast and former amateur level player, my personal experience convinces me to put these balls on the top 10 list of the best soccer balls. While some of them keep getting carried forward over the years, new and much more improved versions are also introduced.
More Resources: