Golf is not a game for everyone. There are people who find it incredibly boring, and there are a few who are absolutely in love with the game. But when the hot golf babes appear on the field, the game becomes a lot more interesting for everybody, even for those who find it boring.
Here, we have put together a list of the ten most beautiful LPGA players who are more popular for their looks than their games. Well, there is no place to deny the fact that these ladies make golf a more interesting game.
Top 10 Most Beautiful LPGA Players Of All Times
You cannot deny the fact that you would wait and watch golf if you found Paige Spiranic behind that club. But they are beautiful with skills as well. They have accomplished a lot in their fields, so without any further delay, let's look into the list of the most beautiful female golfers of all time.
1. Paige Spiranic
There is no doubt about the fact that Paige Spiranic is one of the hottest female golfers of all time. She has even made it to the first place on the list of 50 hottest female athletes. She started playing golf at the age of nine after her older brother inspired her for it.
She also played golf for her University in 2012, the University of Arizona, and also won the award for All-American Scholastic Athlete in 2015. She started playing golf professionally in the same year and has been popular for her appearance and her playing style.
2. Blair O'Neil
The American golfer Blair O'Neil is among the most beautiful LPGA players. She is not just about beauty but skills as well. She had a very successful golf career while she played on the LPGA tour, and she is also a television personality and a model. She has appeared on the front page of many magazines and is quite familiar with the spotlight.
She also won the first Golf channel's television series, "Big Break," in 2008. She has also hosted a lot of television series. She is a popular face of women's golf for her skill, beauty, and drive. She has been an inspiration to many aspiring golfers.
3. Cheyanne Woods
Cheyanne Woods, the professional golfer, makes the list of the most beautiful LGPA players, along with a lot of impressive accomplishments. She is not just any hot female golfer, but the niece of Tiger Woods and has won a lot of games on Tours.
She has an impressive career, with her best career finish in 2013 of 5th in the Manulife Financial LPGA Classic, and won the runner-up in the Swinging Skirts LPGA Classic in 2015 as well. In 2019, she won the Volvik World Long Drive Championship, which made her the first American-African to win an LPGA event.
4. Lucy Robson
Well, she doesn't golf professionally; she comes under the category of model who golfs. Lucy Robson is British by birth, and in 2012 and 2013, she was named as the Treasured Coast Player. She has also played golf for her college, the University of South Florida, and Cal Poly. Since then, he has not played professionally. But she appears on celebrity golf tournaments for her fan followers.
5. Paula Creamer
Paula Creamer is one of the hottest female golfers who has been with the LPGA tours for over 20 years as an active member. She is not just about good looks and that smile; her skills match the level of her hotness as well.
She started playing pro in 2005 and won in her first season. She won in the Sybase Classic against Gloria Park and Jeong Jang by one stroke. She won three times in the year 2008 and won one major, the U.S. Women's Open in 2010.
6. Michelle Wie
Michelle Wie is another American golfer who plays on the LPGA tours. She was also the youngest member who qualified for an LPGA tour event and also has various other titles under the category of "youngest female golfers."
She is one of the hottest female golfers of all time. Not just that, she has won one major tournament and has won many others over the years and has been the art of controversies as well for taking part in the men's tournament, but not after 2008. She is the daughter-in-law of the legendary golf player Jerry West.
7. Lexi Thompson
Lexi Thompson is an American Golfer who is associated with the LPGA tour. At just the age of 12, Thompson qualified for the US Women's Open, which is a history in itself. She started playing the pro game at the age of 15, and by the age of 16, she was the youngest ever golfer to win an LPGA Tournament. After that, she never looked back. She won one major tournament and has won a dozen other tournaments.
8. Lily Muni He
Lily is a golfer who can still be called a newcomer in the field of golf. She started playing again just before the LPGA and is doing well as she won a few on the Symetra Tour and also won the tedious 8-rounds for qualifying in the LPGA tournament.
After her birth in China, her father moved her to San Diago when she was just a child. She was introduced to gold by her father at the age of five and was participating in competitions like the U.S. Kids' Golf and also in the American Junior Golf Association Events when she was in high school.
9. Maria Verchanova
The Russian golfer Maria Verchanova, is the first Russian who became a part of the Ladies European Tour as a full-time member. She also made a record with a 62 in the Rio Olympics. Not only that but because of her physical features, she is also on the list of most beautiful LPGA players and has been modeling for a long time now.
10. Sophie Horn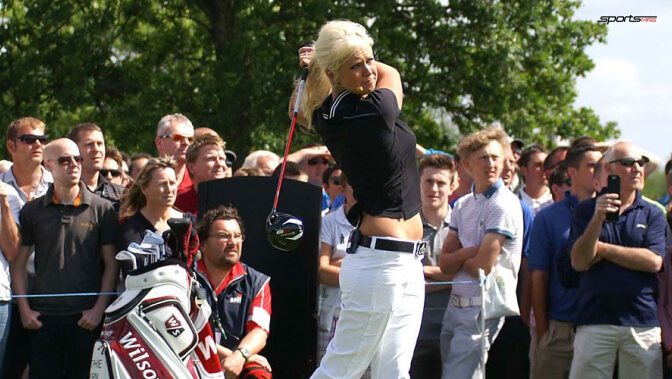 Well, there is no dilemma about the fact that she appears more like a model than a golfer. Sophie Horn is that hot female golfer who everyone mistakes for being a model. Around 2012, she was more into golf actively but has not been actively modeling or playing since then.
Bottom Line
There is no doubt about the fact that these players have caught your eye along the way, and they are one of the main reasons why you watch golf, even if you are not an active golf follower. Well, there are plenty of other pretty LPGA players other than the ten I mentioned above. There is Nelly Korda, Sharmila Nicollet, Natalie Gulbis, and many others. They have been inspiring many women who want to come into the particular sport. Let us know who you think is the most beautiful LPGA player of all time.
Additional Reading: