Ever since the 1950s, arm wrestling has been in the picture as an organized sport. If we go further back, we would be able to trace back its history to Greece and Egypt. It is Japanese "wrist wrestling" that has evolved to be the present-day arm wrestling. This sport has grabbed the attention of the people and is a sport for determining strength.
There are many people who have been questing and surfing around the internet in search of the "best arm wrestler in the world." Here we have put together a list of all the best arm wrestlers ever to find you the answer to the question. Let's check who these legends are.
Top 10 Best Arm Wrestlers
This physiological sport needs a lot of practice, strength, and skill. It takes a hell lot to pin the opponent's hand on the touch pad to get to the ultimate goal. It takes a lot to train yourself to become a professional arm wrestler. This is a brutal battle of will as well as strength.
Over time, this sport has evolved a lot and now has turned into a global phenomenon and has been featured in various popular cultures. There are various championships that are organized in various parts of the globe, and many countries have their own national teams as well. So, let's check who are these best arm wrestlers ever, or strong arm wrestlers, whatever you are calling them these days.
1. John Brzenk
Full Name: John Bezenk
Born: 15th June, 1964
Died: –
Nationality: American
Career highlights
He has won 24 World Championship titles.
He won 11 titles consecutively from the year 1997 to 2007.
He won the World Arm Wrestling Championship 14 times.
The best arm wrestler in the world has to be John Brzenk. He has managed to get his name in the Guinness Book of World Records for being the "Greatest Arm wrestlers Of All Time." He won many GOLDEN BEAR Titles like the Supermatch (Absolut Champion) and Harley Pull Titles in the years 2000, 2001, 2002, and 2009, and he also defeated Ron Bath in the USSA National Pro-Am Championship.
2. Denis Cyplenkov
Full Name: Denis Tsyplenkov
Born: 10th March, 1982
Died: –
Nationality: Ukrainian
Career highlights
He started wrestling at the age of 14.
He has the world record for strict curl at 113 kg.
Dennis Cyplenov became popular from the year of 2008. He finished the decade with a perfect score of 6-0 after defeating Andrey Pushkar in a left-hand Pal fight. Though he was the master of his art, he did not compete regularly and instead chose the Zolty tur or the Nemiroff World Cup to showcase his talent. He is still sharpening his craft and looking for some tough competition in 2023.
3. Cleve Dean
Full Name: Cleve Dean
Born: 15th December, 1953
Died: 10th May, 2011
Nationality: American
Career highlights
He has won the title of World Champion Arm Wrestler for being the reigning champion for ten consecutive years.
He dominated the world of arm wrestling in the 80s. Many of his fans believe that his static strength came from his disciplined lifestyle, where he raised hogs and harvested tobacco and cotton. His "larger than life" physique was a perfect match for his personality. It was his strength that made him stand out from the other arm wrestlers.
4. Davon Larratt
Full Name: Devon Larratt
Born: 24th April, 1975
Died: –
Nationality: Canadian
Career highlights
He is the champion of Left and Right-Arm World Arm Wrestling League Heavyweight.
He has won the Ontario Championship five times.
He won the World Arm Wrestling League 501 in 2019.
Davon Larratt is perhaps the most popular among arm wrestlers, and he is a content creator as well. He has also been in the Canadian Armed Forces and has the rank of the number 1 wrestler in North America. He completed his first international fight in 1999 and also holds numerous titles, which include the Arm Wars Super Series in 2008 and the 2016 World Arm Wrestling League (AWL).
5. Travis Bagent
Full Name: Travis Bagent
Born: 10th March, 1976
Died: –
Nationality: American
Career highlights
He is the winner of 25 National Arm Wrestling titles.
He is also the winner of 13 titles in World Arm Wrestling.
There is no second thought about the fact that Travis is the finest left-handed arm wrestler in the entire world. He began his career professionally at the age of 16 but lost almost all the competitions in which he took part. But things did not stay the same for long, and his career took off in 2000, and now he holds 9 national titles, 5 AAA nationals, and 1 Mike Ground Classic in the year 2006.
6. Andriy Pushkar
Full name: Andriy Pushkar
Born: 6th August, 1985
Died: 14th November, 2018
Nationality: Ukrainian
Career highlights
He won 14 World championships.
He is the winner of the 2003 heavyweight arm wrestling.
Andriy Pushkar, the Ukrainian arm wrestler, won his first medal in 2003. He won the 14th Arm Wrestling Championship and the 16th European Championship and has won the absolute World Cup eight times. He has competed against many notable players, including Zhokh, Devon Larratt, Michael Todd, John Brzenk, and many others. After his death, he was honored at the Krzemieniec cemetery with a statue for his chivalry.
7. Dave Chaffee
Full Name: Dave Chaffe
Born: –
Died: –
Nationality: American
Career highlights
He has a total of 32 wins and only 4 losses in his overall career till date.
He has dominated in all formats of the competition, like the Nemiroff World Cup, World Armwrestling League, and Top 8.
Popularly known as" easy money" among his friends, Dave Chaffee started his arm wrestling career in 2006 and has been through several injuries in his wrestling career. Dave Chaffee won the 2015 Super Heavyweight Southern Regionals as well as the Championship. In 2016, he won the WAL Northern Regionals and got second place in the Championship.
8. Alexey Voyevoda
Full Name: Alexey Ivanovich Voyevoda
Born: 9th May, 1980
Died: –
Nationality: Russian
Career highlights
He is the winner of the 2014 and 2013 World Arm Wrestling Championship.
He is also the winner of the 2004 Zolty Tur Cup.
He has been featured in a documentary called "Pulling John."
He has won many competitions, including the 2004 European Championship and WAF Championship, and has won numerous Russian arm wrestling championships throughout his career. He left this profession twice, once in 2005 and in 2007, to focus on his bobsleigh career. Before he returned to arm wrestling in 2016, he was also a deputy in the Russian Federation State Duma.
9. Levan Sasinashvili
Full Name: Levan Saginashvili
Born: –
Died: –
Nationality: Georgian
Career highlights
He won the title of World Armwrestling Champion in 2023.
He also the most prestigious tournament in 2019, defeating Vitaly Laletin with a score of 6-0.
The "Georgian Hullk" is known for his intimidating physique. He has won the title of the World Arm Wrestling Champion several times and has won the European Arm Westling Championship 6 times. In 2023, he is considered to be the world's best arm wrestler in the right-handed wrestling category.
10. Vitaly Laletin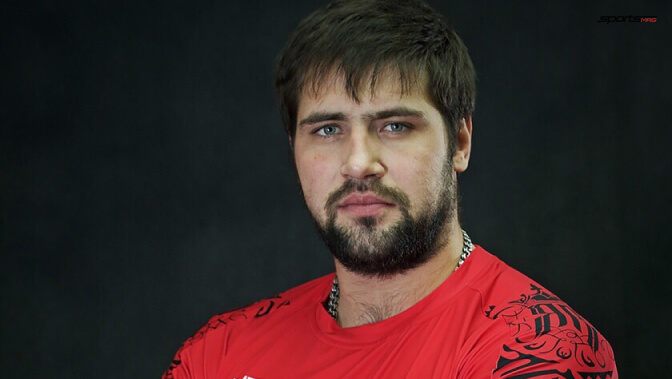 Full Name: Vitaly Laletin
Born: –
Died: –
Nationality: Russian
Career highlights
He has participated in many competitions, including the King Of The Table 5, as well as the AMC Arm Wrestling Tournament.
Even though he lost to Saginashvili in 2008, he joined the league of the top 8 strongest arm wrestling champions.
He has won several titles and world records in strongman competitions and powerlifting. He has also defeated Dave Chaffee by the score of 4-3. He has also competed against Aren Grishin and Dmitry Silaev in the AMC Armwrestling tournament.
Final Words
Were you looking for the best arm wrestler in the world? It was difficult to name just one as there are many who have the skills to become the best. So, the arm wrestling rankings for the top 10 best arm wrestlers in the world are mentioned in this article. These athletes have contributed to the sport in significant ways. They have won many championships in their unique styles and skills.
Their names will be remembered in the history of arm wrestling for the hard work and passion they have towards the sport. It does not matter if they are living or dead, or if they are still playing or retired, the place they have made in the world of arm wrestling will inspire the community for many years and is a testament to those who chose to make this sport their profession.
Additional Reading: