Kevin De Bruyne is a Belgian professional footballer who currently plays for the Premier League club Manchester City. If any football professional makes one team with current players, then Kevin De Bruyne would be in the XI for sure. He has skills, dribble, speed, finishing, long-shots, defensive skills, and most importantly, he assists like he has read rocket science.
He came from one of the best teams in Belgium to the Premier League side Chelsea, but the club was unable to understand his potential. After that, he spent a couple of years in Germany playing for Bundesliga teams, and then came to Manchester City with the mission to conquer Europe, which is yet to be done.
Let's find out how his lifelong journey has been going all over the years.
Kevin De Bruyne Basic Information
Before going further on De Bruyne's journey, let's know the basic information.
| | |
| --- | --- |
| Full Name | Kevin De Bruyne |
| Nationality | Belgium |
| Date of Birth | 28 June 1991 |
| Height | 5 feet 11 inches (1.81m) |
| Current Team | Manchester City |
| Position | Midfield |
| Number | 17 |
Kevin De Bruyne Professional Information
Currently, Kevin De Bruyne is the most crucial player for both the Belgium international team and Manchester City. Though he has proven himself as one of the greatest midfielders of this era, he is yet to win a Euro Cup, World Cup, or Champions League trophy with his team. Let's know about his professional career.
| | | | | |
| --- | --- | --- | --- | --- |
| Team | Starting Year | Left | Appearances | Goals |
| KVV Drongen | 1997 | 1999 | – | – |
| Gent | 1999 | 2005 | – | – |
| Genk | 2005 | 2008 | – | – |
| Genk | 2008 | 2012 | 97 | 16 |
| Chelsea | 2012 | 2014 | 3 | 0 |
| Werder Bremen (Loan) | 2012 | 2013 | 33 | 10 |
| VFL Wolfsburg | 2014 | 2015 | 52 | 13 |
| Manchester City | 2015 | – | 232 | 61 |
This is how De Bruyne's international career has been going all over the years.
| | | | |
| --- | --- | --- | --- |
| Division | Years Active | Appearances | Goals |
| Belgium U18 | 2008- 2009 | 7 | 1 |
| Belgium U19 | 2009- 2010 | 10 | 1 |
| Belgium U21 | 2010- 2011 | 2 | 0 |
| Belgium | 2010- | 97 | 25 |
Kevin De Bruyne: Journey To Football Stardom
Kevin De Bruyne has been in the IFFHS Men's World Team and UEFA Champions League for five times each. He was also in the FIFA FIFPRO World 11, ESM Team of the Year, and UEFA Team of the Year three times. He was also in the Bundesliga Team of the Year.
He also received the Premier League Playmaker of the Season two times. And there are a lot of other awards that he has won, and his career didn't start like this at the beginning. He started his youth career at KVV Drongen in 1997.
Career Start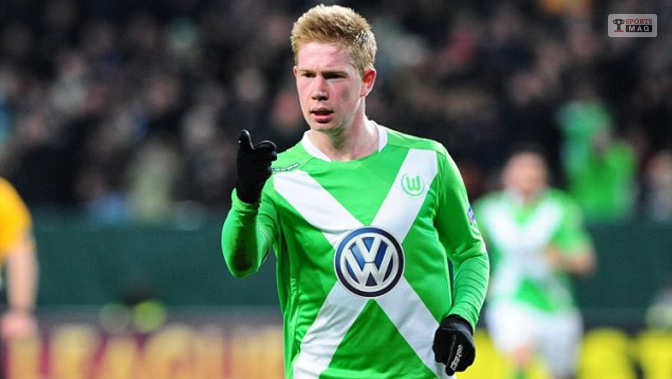 After spending two years in KVV Drongen, he went to Gent. After spending most of his time at Gent, he accepted to join Genk, which was the largest club in Belgium at that time. He spent most of his time developing his youth set-up, and later on, he signed for the club in the senior division as well.
Genk
He started his professional career in 2009, and Genk was defeated 3-0. His first goal was against Standard Liege in 2010. In the 2010-11 season, he played 32 matches and scored 5 goals, and assisted 16 goals. Genk won the league that year. In the next season, De Bruyne scored his first hat trick against Club Brugge. In his last season, he scored 8 goals, and Genk won the league again.
Chelsea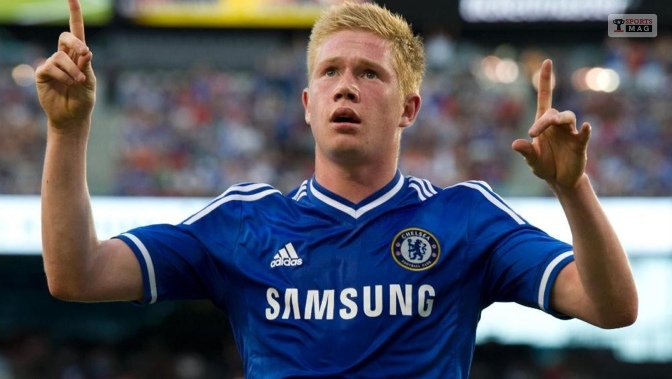 In 2012, De Bruyne went to Chelsea, but he was unable to find a position in the first eleven. He tweeted that he was happy to join Chelsea, but now he needed to work hard. He played only three teams, and all three were friendly games. But Chelsea sent him to Werder Bremen for a long-term loan spell.
Werder Bremen (Loan Spell)
During his spell at Werder Bremen, his first goal came against Hannover 96, but they lost to them. De Bruyne was able to show his performance in Werder Bremen as he helped the team in a couple of wins. He ended his loan spell by scoring a goal against Eintracht Frankfurt.
Chelsea Return
After spending a year in Werder Bremen, there were rumors that De Bruyne was going for a permanent move to either Bayer Leverkusen or Borussia Dortmund. But, Chelsea wanted him to stay. But he caught an injury, and Chelsea sent him to Wolfsburg for the rest of the season.
Wolfsburg
In the January transfer window, De Bruyne was bought by Wolfsburg with a transfer fee of £18 million. Again he started his first match with a loss. But he was able to secure a spot in the first XI. In the next season, De Bruyne made 27 assists and scored a total of 16 goals. And he was the Germany Footballer of the Year in 2015. In his last season, Wolfsburg won against Bayern Munich and won the DFL- Supercup.
Manchester City
In the 2015 season, Manchester City bought Kevin De Bruyne with a huge transfer fee, and he was the second most expensive player at that time after Angel Di Maria. His first goal for Manchester City was against West ham United. He continued scoring and assisting. He was named in the 23 men list of the FIFA Ballon d'Or.
In the second season, Kevin De Bruyne started the season with the Man of the Match award. This was the time when Manchester City started to win Premier League titles back to back. In 2019, he got Manchester City Player of the Season and PFA Team of the Year.
The 2018-19 season was not good enough, as he took a knee injury. After returning to the team again, De Bruyne took an injury in an EFL Cup match against Fulham. He was out for another three months. The 2018-19 season was not good enough for De Bruyne. In the next season, he looked confident, and again, he received the Premier League Player of the Season with 13 goals and 20 assists.
In the 2020-21 season, Manchester City was able to reach the finals of the Champions League, but they lost to Chelsea by 1-0. And De Bruyne again received the PFA Player's Player of the Year award. In the 2021-22 season, De Bruyne won the Premier League Player of the Season.
Final Words
Kevin De Bruyne is a complete player who can play defense and offense. If a player is moving in the d-box, De Bruyne can pass him from anywhere on the ground, and he is best at it. In the 2018 World Cup run, Belgium was able to be in third place.
Let's see if he can win the Champions League this season after defeating RB Leipzig by 8-1 on aggregate.
Thank You.
Read Also: