While we would typically write about hot hockey players in terms of point=streaks, goals, and other stats, this particular article is only taking into account the hot-as-hell good looks of these players. Players in the NHL are known for taking elbows, pucks, and even skates to their faces. And the faces featured here have most likely dealt with the same dilemmas, but these faces are undeniably handsome.
We have come across multiple variations of this concept on the internet, but we always end up disagreeing with those thoughts. It was about time we made a list of our own featuring the hottest players in the NHL.
It is time the ice melts – stay tuned and check out the hottest players – in no specific order – currently playing in the ice hockey league.
Hot As Hell: The Hot Hockey Players Melting The Ice In 2023
There's no point typing 'hot hockey players 2022' or even 'hot hockey players 2021' on Google – instead, just stay tuned with us. And trust us, you will have a greaattt time checking out the hottest NHL players of 2023.
So without wasting time, scroll down and find out more about the hottest NHL players at the moment.
1. Roman Josi:
➼ Current Team: Nashville Predators
➼ Birthday: 1st June 1990
➼ From: Bern, Switzerland
Roman Josi is an excellent performer – the Swiss hockey player has spent almost his entire career with the Nashville Predators, becoming their captain in 2017. His deep blue eyes and charming gaze makes him literally the number one hockey player on our list.
2. Henrik Lundqvist:
➼ Current Team: 2nd March,
➼ Birthday: 2nd March 1982
➼ From: Are, Sweden
If we are talking about hot hockey players who can melt the ice, then there's no way we can miss out on Henrik Lundqvist. Lundqvist might not be a very active player considering he retired way back in 2020, but undoubtedly, he does have a really handsome face to date.
3. Tom Wilson:
➼ Current Team: Washington Capitals
➼ Birthday: 29th March 1994
➼ From: Toronto, Canada
Chosen by the Washington Capitals in 2012 from the first round, Tom Wilson is a right winger in ice hockey. This Canadian professional player is famous for his contribution to the Washington Capitals' win of the 2018 Stanley Cup. It's his strong, powerful gaze, coupled with his height and warm smile, which makes it almost impossible not to notice him.
4. Tyler Seguin:
➼ Current Team: EHC Biel
➼ Birthday: 31st January 1992
➼ From: Brampton, Canada
Nopes, you don't need to look up 'hot hockey players NHL' – you just need to stay tuned with us to find hotties like Tyler Seguin. Seguin isn't just well-known for his hockey-playing skills but also for his incredible good looks. While Seguin has already played for Boston Bruins and Dallas Stars, he is currently playing for another team – the EHC Biel!
5. Marc-Andre Fleury:
➼ Current Team: Minnesota Wild
➼ Birthday: 28th November 1984
➼ From: Sorel-Tracy, Canada
Marc-Andre Fleury is 37 and has won the Stanley Cup three times in his entire ice hockey career. But that's not why we are writing about him in this list – it's his super-hot athletic looks that make it almost impossible not to notice him. Did you know that Fleury's nickname is 'flower?' – he is just a charming flower…is he not?
6. Jonathan Bernier:
➼ Current Team: New Jersey Devils
➼ Birthday: 7th August 1988
➼ From: Laval, Canada
Jonathan Bernier's physical qualities easily make him one of the super-hot players in the world of ice hockey. Did you know that he did win the Stanley Cup in 2012 with The Los Angeles Kings? He is just like your boy next door – his boyish charm only adds to his hotness. The best part? He is a family man through and through – his gram is all about his family!
7. Erik Gudbranson:
➼ Current Team: Columbus Blue Jackets
➼ Birthday: 7th January 1992
➼ From: Ottawa, Ontario, Canada
Erik Gudbranson hails from Canada and is one of the most popular ice hockey players in the world. In the NHL Entry Draft held in 2010, Gudbranson was the 3rd overall pick – the Florida Panthers picked him, and there was no turning back for this defense hockey player. Known for his athletic body, tattoos, and irresistible smile, Gudbranson loves to embark on adventures.
8. Jonathan Toews: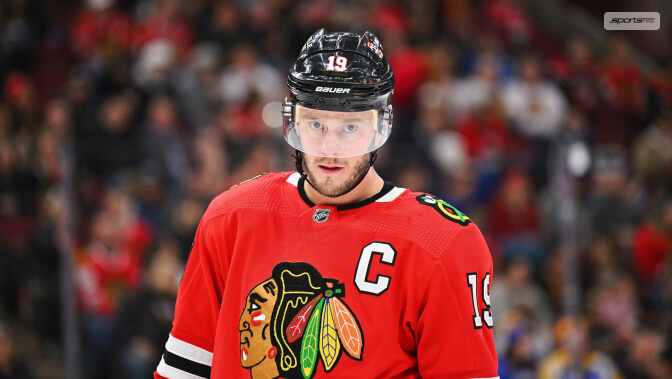 ➼ Current Team: Chicago Blackhawks
➼ Birthday: 29th April 1988
➼ From: Winnipeg, Canada
Perhaps, one of the best ice hockey players recently is Jonathan Toews. Toews has even managed to win around 3 Stanley Cup Championships and killed it with a crazy gold medal way back in 2005. After starting this college career at the University of Dakota, Toews registered for the ice hockey team.
9. Patrick Kane:
➼ Current Team: New York Rangers
➼ Birthday: 19th November 1988
➼ From: Buffalo, New York, United States
Patrick Kane is so hot that you simply cannot ignore this man, especially when he is playing ice hockey. This hottie is loyal, considering he has dedicated his entire career to the legendary Chicago Blackhawks team. Interestingly, he did win the Stanley Cup thrice. In 2013, he became the most valuable player.
10. Sidney Crosby:
➼ Current Team: Pittsburgh Penguins
➼ Birthday: 7th August 1987
➼ From: Cole Harbour, Canada
Sidney Crosby is one hot hockey player who is not just active on the actual ice field from 2005 onwards, he has also become popular because of his handsome looks and talent. Drafted by the NHL Entry Draft of 2005, Sidney Crosby was nicknamed 'Sid the Kid.' Apart from that, he is also famous for his rivalry with Alex Ovechkin.
And It's A Wrap!
And that's a wrap on the hot hockey players who can melt the ice in 2023. So, what do you think about these hotties who are not just attractive but also highly talented? If you are not into NHL, then we bet now you will start watching the leagues just for the sake of spotting some hotties on the field.
No judgments – who are we to judge? We do the same (not all of us, obviously)! While sharing your thoughts, feel free to tell us about your experiences in the comments below.
Have A Look :-