There is no doubt that basketball is one of the most famous indoor games of all time, yet it needs a good physic to play it. We all have been watching NBA since we used to be young. Some of us even had a dream to play professionally, but life did not go as planned. Whether you are playing professionally or want to play for fun, you will need a couple of pieces of equipment in Basketball to play it.
Let's start. 
Essential Equipment In Basketball
So what is the essential equipment in basketball? In this article, we will focus on everything you will need to play a basketball game. The game might be professional or for fun. But you can skip one or two items from the list if you are playing the game just for fun.
There is a difference between other sports and basketball. And that is, basketball does not require so much equipment to play. Players can play basketball on wooden floors when they play this game indoors, and when it comes to playing the game outdoors, they can play on asphalt. So, are you ready? Then, Let's begin.
The Backboard
When it comes to basketball, a backboard is a must thing to have. Otherwise, you can not play this game. A backboard can be made of glass, wood, or metal. However, official NBA backboards are made of transparent glass. The size of the board is 6 feet horizontally and 3.5 feet vertically. If you want fun, then you can try the backboards, which have light. 
The Ball
Now, coming to the second essential equipment in basketball- basketball BALL. The ball is made with synthetic materials like nylon, polyester, or rubber, and there is also a combination with leather. In professional sports, the ball must have a pressure of 7.5 to 8.5 pounds/square inch. The circumference of the ball is 29.5 inches, and this size is called 7. There are other small-sized kids as well. 
The Hoop
A basketball hoop consists of a metal post, backboard, rim, and net. The main work of the hoop is to hold all of these things in the air. If you are playing in the half court, then you will need one hoop. And when it comes to a full-court match, you will need two hoops. Normally, a hoop has to be ten feet above, and this is the standard size.
Basketball Jerseys
There are so many jerseys that you can use for basketball. If you are participating in a tournament, then you should put names and numbers on the jerseys. This will help the referees and officials identify the players. An NBA jersey is way too expensive, but you can buy a regular one. I will recommend you buy a jersey that will give you comfort because the game requires you to be flexible and comfortable while doing everything. 
Basketball Shoes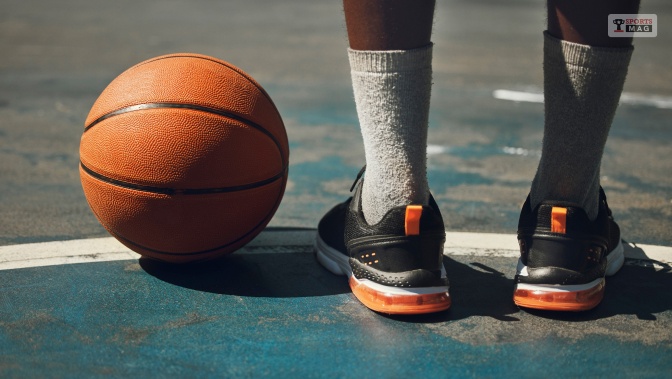 Basketball shoes are the most essential equipment for basketball player in playing basketball as shoes will give you a grip and it will help you not to slip on the floor. You must know that a basketball floor becomes slippery as there is no way to suck the sweat. So, you need shoes that can give you stability, allow you to do quick cuts, and give you enough comfort. There are famous brands like Nike, Jordan, Adidas, and Under Armour.
Basketball Shorts
Basketball shorts are very important equipment in basketball as you can play the sport in cold weather. Therefore, you need shorts that must be able to suck your sweat, give you comfort and the shorts will not make any disturbance while you are moving. 
Basketball Socks
Though you can wear any socks that you want to wear, the socks can be your regular socks, also. But good socks are those which will not cause any discomfort to your foot and can be able to suck sweat. And most importantly, the socks will give you flexibility. You can also consider wearing custom socks. Custom socks are a game-changer when it comes to finding the perfect fit and functionality for your feet. Unlike regular socks, custom socks are tailored to your specific needs and preferences. They are designed to provide maximum comfort and support, ensuring that you can move freely without any discomfort or irritation.
Backpacks
If you are playing the sport in the neighborhood, then a nice backpack is not required. A regular one is enough. But if you play seriously, and go to play regularly at outer stations, then a good backpack to hold everything together is important. 
Rims And Rings
Basketball rims and rings that those things that hold the net with the backboard. If you watch a professional basketball game, you can see that rims are flexible and strong enough that they can hold a player's weight. Normally, the rim has a diameter of 18 inches. And most importantly, the rim is 10 feet above the ground. 
Basketball Nets
Basketball nets are essential. According to NBA rules, the nets must have to be white in color and should have a length of 18 inches. Nets are important to check whether the ball passes through the basket or not. Normally, these nets are made of polyester or nylon. 
Shot Clocks
When you are playing a sport with your friends and want the game to be serious, then a shot clock is important to measure the time that how much the offensive team has the ball. According to NBA, the clock lasts 24 seconds, and in college basketballs, the time is 30 seconds. However, there is a cool system that you can make. Just connect the clock to the backboard. And when the clock expires, there will be a light on the backboard. 
There are other things that you can use for a regular game or a game for fun. But these things are not on the list of essential equipment in basketball. 
Basketball Shooting Sleeve
Headbands
Ball Racks
Ball Pump
Towels
Wristbands
Final Words
As you are already aware, the equipment in basketball. But what about the indoor ground or court? So, for a basketball court, the following things are required. These things are for giving the best basketball facilities.
Backboard
Court
Bench
Hoop
Lights
Rm
Nets
For a basketball coach, here are the essential equipments of basketball.
Basketballs
Whistles 
Ball Racks
Clipboard
Rebounding Machines
Pinnies
Shooting Aids
Training Basketball Equipment 
Stopwatch
I hope you find this article interesting. Please give your valuable feedback in the comment section below.
Thank You.
Read Also: