Indian picnics during the winter are incomplete without a heated game of badminton where people from two teams would sweat it out and will try to score points. However, this game would be impossible to play without the rackets. Am I right? I am right.
So, we scoured the internet and brought you a complete guide on how to buy badminton rackets. Not just that, we have also compiled some of the top badminton rackets that you can check out in 2023. So without further ado, let's dive right in!
Significance of badminton  
To many of our surprise, badminton is the second most popular sport in the world, apparently. With around 220 million players worldwide, it sits second to football. This is a complex game where players are expected to strike a balance between strength and technique.
Historically, badminton was first played by British soldiers stationed in Poona (modern-day Pune) in the 1870s. Subsequently, they took the sports back to England, and by 1873, it became a full-fledged sport with its first set of rules. Later on, Badminton World Federation was established, and eventually, the sport made its way to become an Olympic sport.
Best Badminton rackets to check out in 2023  
Given the popularity and rich history of the sport, it is quite obvious why people opt to play the game. As explained earlier, it is the second most played sport across the globe. Therefore, it says something. However, for a good game of badminton, you would need to have the perfect racket at your disposal. So, let us look at some of the top badminton rackets that you can buy in 2023.
Yonex Voltric Z Force II 
Yonex badminton rackets are known for their reliability, and Voltric Z Force does not disappoint. Apparently made of 'ultra-light graphites,' this bad boy is made for power. The strings can take up to 30 lbs of tension, making it perfect for smashing. The shaft is made with nanometric material, which makes it light but, at the same time, stiff. However, this is a head-heavy racket, which makes it most suitable for more intermediate and seasoned players.
Li-Ning G-Force 3600 Superlite  
This is a head-heavy racket that the company claims "is a very durable option for intermediate players." This racket features a full carbon frame which makes the shaft stiff and durable. This also features DOF technology like most other Li-Ning badminton rackets. This provides a larger sweet spot for better swing and lesser drag speed.
Yonex Nanoray 18i  
Another Yonex on the list, this one is all about quick swings. This is a very lightweight racket that is known for its speed. It belongs to the featherweight line-up of rackets and weighs only 77 grams. As a result, if you are a beginner and looking for a sturdy racket, you should definitely go for Nanoray 18i.
Wilson Attacker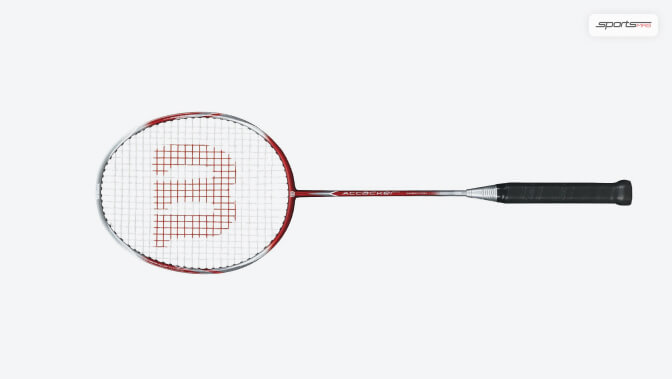 Wilson Attacker is maybe not the most 'advanced' of the lot. However, you can be assured that it is definitely one of the good badminton rackets for mostly recreational use. This is a slightly top-heavy racket with medium flexibility. However, one big con for more serious players would be the general lack of power and stability it offers. Still, if you are a beginner or somebody who wants to play recreationally, this is the perfect choice for you.
Ashaway Phantom X Fire II 
Manufactured with the phantom airflow system, it has some of the best handling stats. However, several users have complained that the racket lacks power. Yet, the racket surely makes it up in terms of durability and speed. With a slim graphite frame, it makes the instrument perfect for a fast-paced match.
(FAQs)  Frequently Asked Question:-
Q. Types of badminton rackets?
Ans: Ans: Your choice should primarily depend on your overall skill level and playing style. Here are some of the different types of badminton rackets that you need to check out:
⦿ If you are a beginner, you should go for lightweight, flexible, and easy-to-handle badminton rackets.
⦿ If you best describe your skill as intermediate, you should gravitate more toward the balanced ones. This type should provide you with the best of both worlds by being powerful and easy to handle, suitable for players with experience.
⦿ If you have been playing the game for a while, you can certainly choose professional badminton rackets that are heavier and stiffer. They are best suited for more control and power.
If you are an attacking player, who loves smashing, then power rackets are your type. They are typically heavier towards the head and are perfect for smashing and pinning your opponents.
For a more all-rounded playing experience, you need to go for more all-round rackets that are typically built for experienced players who want to be flexible in their game.
Q. How to choose a racket?
Ans: There are different types of rackets that are present in the market, each offering something different than the other. Therefore, to help you out, we bring you a brief guide to things you need to consider before buying a racket.
⦿ Skill Level: Each skill level demands a different instrument. So, if you are a beginner, there is no point in investing a hefty sum in a professional racket that you would not be able to wield properly. For better reference, look at the former question.
⦿ Playing Style: You could be someone who likes to play with power or somebody who wants balance. Therefore, choosing the right racket would mean victory or loss.
⦿ Weight: You need to choose a proper racket that you can swing with force and technique in the heat of the game. Hence, a comfortable weight is something that you need to look out for.
⦿ Grip: To put it simply, you need to select a grip that would fit effectively in your hand. Otherwise, a loose grip can prove problematic in the long run.
⦿ Material: A ₹20,000 carbon-fiber racket might not suit you if you think about it. Therefore, unless you are competing in the Olympics, keep the choice of material affordable and grounded.
Final Thought.
With that, we reached the end of our badminton rackets review, where we brought you some of the best badminton rackets that are perfect for intermediate as well as beginners. Moreover, the general price point of these badminton rackets is fairly affordable, which makes these products all the more affordable. So if you were looking for some racket sets, then we would suggest you check some of these out. Ciao!
Have A Look :-