If you are from a part of the world that enjoys both football and cricket, you will be able to identify with what I have to say. In football, Brazil enjoys the same stature, as India does when it comes to cricket. Every time there is a global tournament, both the teams start as favorites to win. Add to that some fantastic global superstars and you are left with one of two things every time they take the field- ecstatic joy, or terrible disappointment!
Enough with the cricket reference, let's get down to the show the five-time champions put up at the stunning Lusail stadium in Qatar. Brazil's 2-0 victory over a lackluster Serbia wound up the first round of matches in the controversial tournament. This is by analysis of the major teams after all of them have played one match each-
France- Fantastic
Spain- Stupendous
England- Elementary
Argentina- Average
Brazil- Brazil
You don't have an adjective for Brazil as they are 'Brazil'. When the team and its superstars take the field, you don't expect anything less than fireworks, and boy did we get some.
Brazil's line-up showed intent
Neymar, Raphinha, Richarlison, and Vinicius Junior. Four of the top marksmen in the world of football lining up one after another signaled Brazil's intent even before the game started. Tite has no doubt played a stellar role in negotiating supreme egos, and managing expectations.
Serbia on the other hand, wanted to play a safe and controlling match, and look for counters and set-pieces, as scoring from open play against the pace of the Brazilians was frankly out of the question.
The first half showed the world a much more mature Brazil that was able to play in a safe manner to gauge the opponent. They were careful of not losing possession, along with not indulging in one-man shows of individual brilliance.
Brazil dominated the first half, but could not find a way through. For most parts, this was because of the Serbian goalkeeper, Vanja Milinkovic Savic. He came to the rescue of his team several times in the first half when the Brazilian front four started asking questions of the defense.
There were two serious attempts on goal in the first half with Thiago Silva and Raphinha both being denied thanks to the heroics of Savic at the goal. The first-half ended goalless.
Brazil turns it on in the 2nd half
Professor Tite as he is fondly called by the players said the right words, as the superstars took the field with much more energy and vigor. This is where thousands of spectators at the Lusail stadium and millions the world over got their money's worth as Brazil turned it on in the 2nd half.
Raphinha had a great shot saved by Savic, which was followed up in quick succession by Sandro's thunderous attempt that handsomely disturbed the woodwork. Some say that it's still shaking now!
Richarlison, has for a very long time been one of the best strikers in the Premier League. He has a striker's appetite for getting goals and finds himself in great goal-scoring positions, much like a Ruud Van Nistelrooy back in his days.
At the hour mark, Richarlison struck and got Brazil a well-deserved lead. It was a typical pacher's goal. Silva's attempt was parried by Savic and fell to Richarlison who was at the right place and at the right time.
If Richarlison's first goal was about poaching, his second goal was all about hunting. There are moments in big tournaments when you tell yourself, God I love this game. A spanking overhead kick from Richarlison not only made its way into the Serbian goal but also ended up becoming a contender for one of the best goals of this World Cup.
Neymar: Are you there?
While Neymar has always been an incredibly talented player and global superstar, critics haven't taken too lightly to him. Against Serbia, Neymar was marked by the Serbian defense and was subject to an onslaught of fouls throughout the match.
He was substituted at the 80th minute mark after being battered and bruised throughout the night. According to a release by the Brazilian team, the medics will wait between 24-48 hours to see and assess the state of his injury and his role in the next set of matches for Brazil.
With the defense going after Neymar, others like Raphinha, Vinicius Junior, and Richarlison has tons of space to play a creative brand of football that has become synonymous with Brazil. Maybe it's a good thing for Brazil that defenses are focusing on one player and leaving everyone else. We just have to wait and watch what happens to Neymar's ankle injury.
Brazil: Favorites to win the World Cup?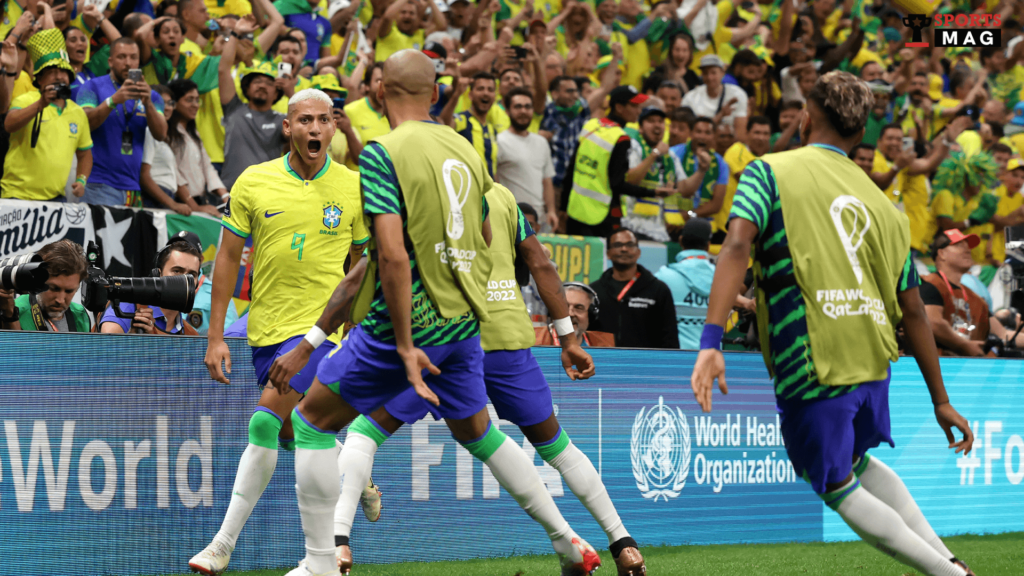 To be fair, it's too early in the tournament to really take a call on what is going to happen. What was delightful to see was the type of football that the team was able to play. Fluid movements, seamless passing, spectacular shots on goals.
Brazil is to football, what Roger Federer was to tennis. On the song, Brazil looks like the perfect symphony. If it wasn't for Savic, Brazil would have ended with five or more goals. They really got going in the 2nd half.
When teams like Brazil step up, it gets the tournament going. The hosts really want some spotlight on the matches per se and not on what has gone on before and during the cup from the management perspective.
No sporting event is perfect, just like no teams, or individuals are. Yet, sometimes, you just get to watch 45 minutes of brilliance and you end up forgetting everything- the anti-homosexuality stance, bribery controversies, worker's deaths, restricted human rights…
Maybe; maybe not.
Additional Reading: