What is MMA vs UFC? If this is what is eating you up, you stumbled upon the right article, my friend. This article will help you understand the difference between the two so that you can get some idea about the topic of mixed martial arts and Ultimate Fighting Championship. Read more.
Where Did MMA Begin?
If you look objectively, you will find that Mixed martial arts have been part of human society for thousands of years now. During Ancient Greece, a popular form of sport fighting was known as Pankration. Pankration was a mixed-bag fighting form that included elements of wrestling and boxing. This is something that can even be seen in UFC, and to understand this lineage is the most seminal point of the MMA vs. UFC debate. Another anecdote from history shows that in China, the military developed a form of martial arts known as Shuai Jiao.
This fighting form is a combination of elements of wrestling and Kung Fu. So, over the years, different societies across the globe have combined martial arts forms in order to create unique styles of fighting so that they can combat invaders or win wars.  But the narrative shifted drastically over the recent few years. And people tend to do the same now for show fighting.
Even though the practice is ancient and has been going on for years on end. The term and the art form were popularised in the 20th century with the meteoric rise of Bruce Lee. Bruce Lee was not only a popular actor, but he also introduced his own form of martial arts known as Jeet Kune Do. In fact, it is believed that he was the person who can be credited with the inception of modern-day MMA.
How Did MMA Grow?
Throughout the early 1900s, a family of fighters from Brazil known as the Graciers popularized the very art of Brazilian Jiu-Jitsu. This is a form of ground-based fighting that the Brazilian people created. Like most other martial originating forms from the location, the form was deeply rooted in culture and society. Like for example, Capoeira is a Brazilian martial arts form that slaves created. These slaves were restricted from practicing martial arts, so they tried masking it as a dance form. Therefore, Jui-Jitsu and Capoeira share the vein. And the mesmerizing movements of both these art forms really make these art forms visually appealing. Therefore, it grew in popularity over the years.
By the time it was the 1960s, a man named Rorion Gracie wanted to bring this form to the USA as he thought white people would be interested. And surprisingly, he was quite successful in this attempt of his. Gracie, along with other members of the Gracie Family, established this fighting style throughout the 80s. To gain notoriety among fighters, Gracie's family would challenge fighters from other disciplines in a winner-takes-all fighting situation. As more and more fighters came forward with their showcase of talent and discipline, the Gracie family succeeded in what they set out to do. One can say that this was a foundational stone that laid the path towards modern-day UFC and other MMA leagues.
Origin Of UFC
This is another story altogether, and which again involves Gracies. The Gracies had a vision of bringing their brand of sport-fighting to a national audience. This vision started everything for UFC. In order to achieve their dreams, the Gracies managed to get hold of promoters Art Davie and Director John Milius to set up a one-day sporting event called the Ultimate Fighting Championship. Fighters were encouraged to come to this event in order to showcase their talent and fighting capabilities. The first-ever UFC event was held in Denver, Colorado, on November 12, 1993. The format was simple, eight fighters from different disciplines will go against each other to determine the best fighter. 
The event was still at its primitive stage. There were no judges, weight classes, rounds, or even timers. The only rule was that eye gouging or biting was not allowed. A fight will only end when a fighter gets knocked out, submitted, or if either of the corner throws in the towel.
The first-ever winner of the UFC was none other than Royce Gracie. A small, nimble fighter who was related to the Gracie. This not only established the sporting event formally but also proved that jiu-jitsu is a deadly form of fighting that can take on even the biggest of fighters. A sports critic of that time named Howard Rosenberg dubbed this form of sport fighting as 'mixed martial arts,' and from then onwards, the term stuck. 
How Did It Grow?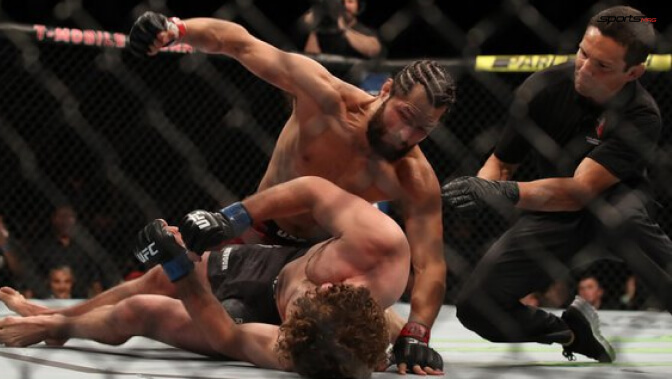 November 12, 1993, marked the very beginning of the illustrious journey of MMA and UFC. However, a modern-day UFC fight is a more regulated affair than its predecessor. Over the years, the sport went from a fringe fighting sport without any major rules to a more regulated affair. Unlike before, UFC fights now have rounds, time limits, rules, weight classes, penalties, etc. However, back then, there was only one set of rules, no eye gouging or biting. Ever since UFC 1, the sport of MMA has picked up considerably. Most countries have their form of UFC or MMA tournaments that really bring fighters of different cultures and communities together in a show of strength and superiority.
Key Difference: MMA vs. UFC
So, I guess you have figured the key difference out already. The primary difference that sets the very essence of the MMA vs UFC debate is that the former is an age-old practice that human beings have been practicing for ages. UFC on the other hand is a sporting event that lets MMA fighters come forward to showcase their skills. 
End Note
In summation, this is the primary and the only key difference that you need to remember and take away from the MMA vs UFC debate. While one is the sport that players train themselves in. Another is the league that enables the MMA fighters to showcase their skills and superiority.
Additional Reading: