Karim Mostafa Benzema is a French footballer who is currently the skipper of Real Madrid and plays in the striker position. He is a prolific and creative player, and when it comes to the greatest strikers of this generation, Karim Benzema is one of them. Currently, Benzema is the second-highest goalscorer for Real Madrid after Cristiano Ronaldo.
Benzema joined Real Madrid in 2009, and in his tenure in Madrid, he has won a total of 24 trophies. And five of them are UEFA Champions League which is insane for footballers' lifelong journey. Last year, he won the UEFA Player of the Year along with the Ballon d'Or. Also, he is the second-oldest player to win this title after Stanley Matthews. Let's learn about this Real Madrid legend.
Karim Benzema Basic Information
Before going further on his journey, let's know the basic information.
| | |
| --- | --- |
| Full Name | Karim Mostafa Benzema |
| Nationality | France |
| Date Of Birth | 19 December 1987 |
| Height | 6 feet 1 inch (1.85m) |
| Current Team | Real Madrid |
| Position | Striker |
| Number | 9 |
Karim Benzema Professional Information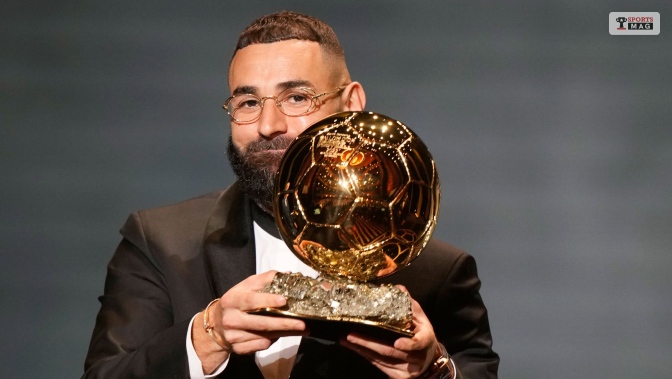 After getting an injury before the FIFA World Cup, Benzema could not play in the tournament. And after that, he decided that he would no longer be a part of the French national team. He made it clear, and the main reason was that he was already 35 years old. And it would take some time for him to collaborate with the young French team.
But that doesn't mean he is unable to make his mark on the pitch while wearing a Real Madrid shirt. That would be completely wrong. This man won the Ballon d'Or for his performance in the last season in La Liga and the Champions League. Let's see how his career went and the basic stats.
| | | | | |
| --- | --- | --- | --- | --- |
| Team | Starting Year | Left | Appearances | Goals |
| AS Des Buers Villeurbanne | 1993 | 1996 | – | – |
| Bron | 1996 | 1997 | – | – |
| Lyon (Youth) | 1997 | 2005 | – | – |
| Lyon B | 2004 | 2006 | 20 | 15 |
| Lyon | 2004 | 2009 | 148 | 66 |
| Real Madrid | 2009 | – | 634 | 342 |
This is how Benzema's international career has been going all over the years.
| | | | |
| --- | --- | --- | --- |
| Division | Years Active | Appearances | Goals |
| France U17 | 2004 | 4 | 1 |
| France U18 | 2004- 2005 | 17 | 14 |
| France U19 | 2005- 2006 | 9 | 5 |
| France U21 | 2006 | 5 | 0 |
| France | 2007- 2022 | 97 | 37 |
Karim Benzema: From Lyon To Become Real Madrid Star
Benzema started his football journey from his local football club AS Des Buers Villeurbanne and then he moved to Bron. His coaches were amazed by his performance of Benzema as he was so furious at a very young age. After that, he gave a trial to Lyon, and the rest is history.
Career Start
Benzema was brought to the Lyon youth academy at the age of 10. He used to be used as a ballboy. But he was so dedicated that many people referred to him as respectful and discreet. At the Under-16 level, he scored 38 goals and was promoted to the France U-17 team.
Lyon
After showing tremendous performance, Benzema was taken into the senior team at the age of 17. He was the youngest striker at that time. He started his first match against Metz, where he was able to assist a goal. In that year, Benzema appeared six times, and Lyon won the league.
Benzema scored his first professional goal against Ajaccio, and it was a 3-1 win. In the 2005-06 season, another Striker from Brazil was signed, and Benzema was struggling to get enough minutes. But, in the 2006-07 season, Benzema was actually cultivated for the first time. And he showed his full potential. But, in the middle of the season, he took a high injury.
From 2007 to 2009, Benzema became the club's talisman as he started scoring goals and gave value to the club by showing his performance. In the last season, he scored 17 goals before taking the flight to Madrid.
Real Madrid
In the 2009 transfer window, Real Madrid wrote history, they signed Ronaldo, Xavi Alonso, Kaka, Raul Albiol, and Benzema. His first goal came in his first appearance, where he scored a lone goal. In the pre-season, Benzema tied with Raul by scoring the same amount of goals.
His first competitive goal came against Xerez. Many Spanish newspapers started calling him the new Anelka of Spain. In the second season, Benzema became the first choice and got the number 9 shirt. He started getting more time as Jose Mourinho saw potential in him. After a couple of seasons, he got the regular start.
In the 2013-14 campaign Real Madrid won the Champions League after 13 years, and Benzema was a part of it. But the main focus was on Ronaldo. From 2015-16 to 2017-18, Benzema became an integral part of the Real Madrid squad alongside Ronaldo, Bale, Kroos, Modric, and Casemiro. And Benzema became a valuable asset to the team.
After Ronaldo went to Juventus, Benzema started getting more goals as there was no one better in the club who could score goals like Ronaldo. Real Madrid took three years to develop their squad and became Champion again in the Champions League. And Benzema got the armband as well, as he was at the top of scoring the most goals in La Liga and the Champions League. Benzema and Vinicius produced a total of 44 goals in the League run.
This year, Benzema took the decision that he would not be a part of his national team and give a chance to the youngsters. But when it comes to Real Madrid, he is going to fight. Real Madrid will have a tough fight in the League, but they are definitely a contender for the Champions League as they have already defeated Liverpool by 6-2.
Final Words
There are critics who say that Benzema is one of the reasons that Ronaldo used to get so many goals at Real Madrid, and the logic was simple. Benzema is one of the most unselfish players you will ever see. He is great at scoring goals, he is great at assisting goals, and, most importantly, is a team player and a born leader.
Thank You.
Read Also: