India beat Afghanistan by 101 runs after losing both of their matches against Pakistan and Srilanka. Kohli made his highest score in T20 International, Bhuvneshwar took 5 wickets. India registered a victory before bowling out.
Kohli made a beautiful 122, and KL Rahul also played well and scored 62 runs in 41 balls. India made 212 by losing only two wickets. Afghanistan made 111 in 20 overs, and India won by 101 runs. Dinesh Kartik bowled the last over. Bhuvneshwar Kumar took 5 wickets. Maybe a little late, but the performance was necessary for confidence.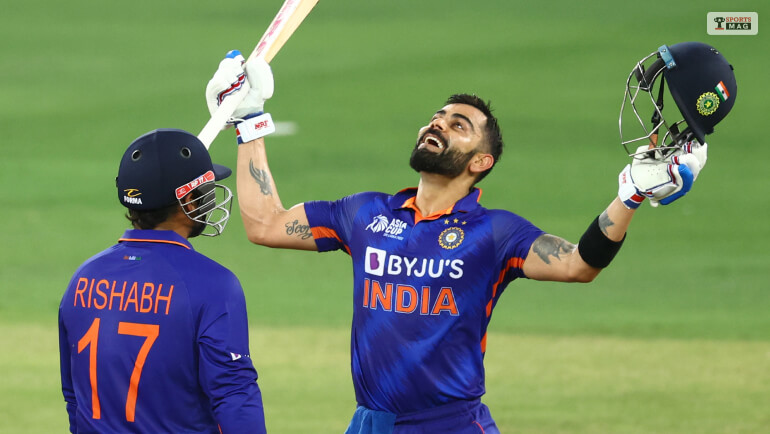 Virat Kohli, finished or not? The last time he made a century was against Bangladesh in November 2019. But, yesterday, the spotlight was on Virat, with twelve 4s and six 6s, he scored a total of 122 runs in 61 balls.
Afghanistan won the toss and decided to field first. Rohit was at rest, so Virat and Rahul started the innings. Both were devastating and on fire. Rahul finished his innings after scoring 62 runs, but there was no way to stop Kohli. He played for the whole innings and scored 122 runs with a not out. Rishabh Pant then helped to take the score to 212, leaving Afghanistan a target of 213.
Afghanistan castle fell very quickly. After seven overs, they scored 21 runs by losing 6 wickets. Bhuvneshwar Kumar was a cheat code yesterday, he took 5 wickets in 4 overs by giving only four runs. Dinesh Kartik bowled the last over and gave 18 runs. Ibrahim Zadran was the only player with whom the Afghan fans were not angry. He scored 64 runs in 59 balls and took their score to 111.
Read Also: